Nov 15, 2021
Spread Christmas Cheer. Listen and Share Christmas music from Celtic musicians featured on the Irish & Celtic Music Podcast. Subscribe at CelticChristmasPodcast.com.
Celtic Christmas music from Stephanie Claussen, The Gothard Sisters, Laura MacKenzie, Eira, Celtic Woman, Screaming Orphans, Steel Clover, Sarah Marie Mullen, Heather Alexander, Natalie MacMaster, Donnell Leahy, Aizle, Rioghnach Connolly, Peat in the Creel, A Shamrock in Kudzu, Susan Toman, Jil Chambless, Ed Miller, Scooter Muse, Matt & Shannon Heaton, Heather Dale, Carolina Ceili, Catriona O'Leary, Jennifer Licko, Cherish the Ladies, Liz Carroll, Golden Bough, Four Celtic Voices, Jessica Victoria, Banshee in the Kitchen, Liz Madden, Katie McMahon, Bonnie Rideout, Nancy Daily-Green, Sheri O'Meara, Eileen Ivers, The Poor Clares, Sharon Shannon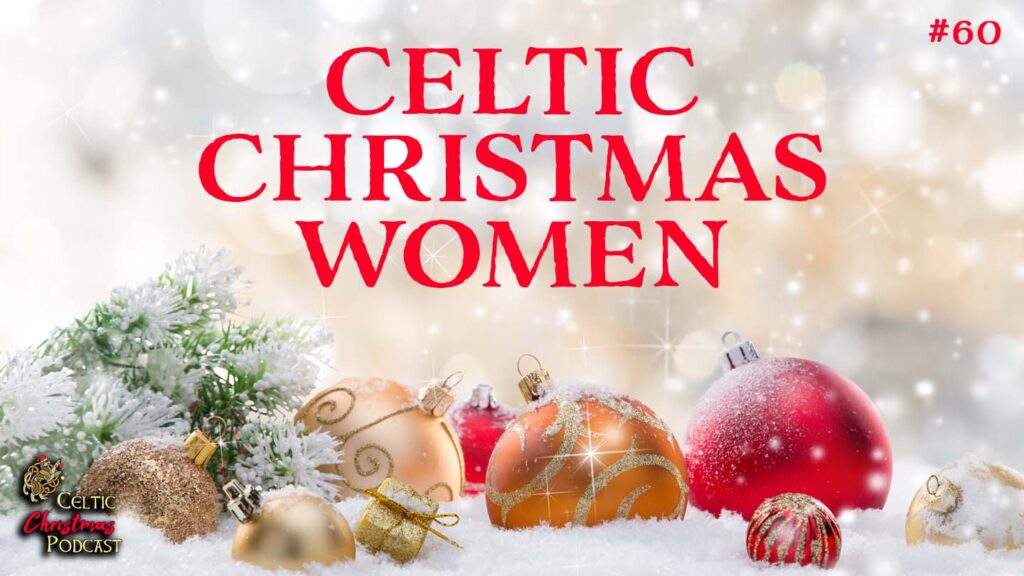 WELCOME TO THE CELTIC CHRISTMAS PODCAST
I am Marc Gunn. I am a Celtic musician and I love Christmas music. In each episode, I introduce you to Celtic musicians from the Irish & Celtic Music Podcast who are creating great Christmas music.
This year I have an all new format. Instead of sharing the music in podcast form, I've created a playlist over on Spotify called Celtic Christmas Women. I hope to add YouTube and Amazon Music. But right now, it's just on Spotify.
If you prefer the podcast format and want more Celtic Christmas MUSIC episodes of the podcast, make sure you join our Celtic Christmas Fans on Patreon. You'll get a music-only episode and will join the other 51 patrons who are helping spread Christmas Cheer!
That said, this is actually the final MUSIC episode of the Celtic Christmas podcast. This episode was originally created for the Irish & Celtic Music Podcast in 2020. This is a replay of that show.
You can find a complete list of the artists in this show at CelticChristmasPodcast.com.
CELTIC CHRISTMAS PLAYLISTS & NEWS
There, also, you will find a link to our 2021 Celtic Christmas Women Spotify playlist that features MOST of the artists in this show.
Go follow the Celtic Christmas Women playlist now.
More playlists to follow:
CELTIC CHRISTMAS NEWS
1:30 - "'Twas in the Moon of Wintertime / Ding Dong Merrily On High" by Stephanie Claussen from Light so Brilliant: Carols and Tunes for Christmas
5:24 - WELCOME TO CELTIC MUSIC
* Helping you celebrate Celtic culture through music. My name is Marc Gunn. I am a musician and podcaster. This show is dedicated to the indie Celtic musicians. Please support these artists. Share the show with your friends. And find more episodes at celticmusicpodcast.com. You can also support this podcast on Patreon.
At the end of November, we hit a HUGE milestone for the podcast. We now have over 300 kind souls who donate to the podcast each and every month. They collectively pledge over $800 per episode to make this show happen. I was already planning a Celtic Christmas Women episode. But because of that milestone, I decided to turn it into a 2-hour special. Plus, I'm adding another 2-hour special next month.
So in this show I'm gonna share Christmas music by women playing Celtic music. That's because women don't get the attention they deserve in the music business in general and in Celtic music either. So I'm gonna highlight these ladies.
If you want to find out more about the gender gap in traditional music, check out the non-profit FairPle. They advocate for equal opportunity and balanced representation for all.
7:03 - "Good King Wenceslas" by The Gothard Sisters from Falling Snow
11:00 - "What Child Is This" by Laura MacKenzie from Yuletide Bagpipes
13:35 - "Christmas Is Coming/Red Hair Boy/King's Reel" by Eira from Glen Tidings
Liesel Wilson: Vocals, Fiddle, Erhu, Octave Fiddle
Sue Spencer: Guitar, Vocals
17:51 - "O Come, O Come Emmanuel" by Celtic Woman from The Magic of Christmas
21:55 - "The Song We Used to Sing" by Screaming Orphans from Single
25:16 - "Christ Child's Lullaby" by Steel Clover from Season of Love
28:31 - "Patapan" by Sarah Marie Mullen from In the Moon of Wintertime
30:38 - CELTIC CHRISTMAS PODCAST
If you're looking for more Celtic Christmas music, then you should definitely subscribe to the Celtic Christmas Podcast. There are five episodes that we released in 2020. It's a delightful way to celebrate Celtic culture through Christmas music. And of course, it too is supported by folks like you on Patreon. Subscribe to the podcast at CelticChristmasMusic.net.
31:49 - "Unto Us a Child Is Born" by Heather Alexander from Wintertide
36:02 - "God Rest Ye Merry Gentlemen" by Natalie MacMaster, Donnell Leahy from A Celtic Family Christmas
39:46 - "The Wexford Carol" by Aizle & Rioghnach Connolly from The Wexford Carol
44:19 - "Cutty Wren, Drive the Cold Winter Away" by Peat in the Creel from Winter
50:34 - "The Coventry Carol" by A Shamrock in Kudzu from Kudzu for Christmas
½ the 6 piece band of ladies
53:02 - "The Sussex Carol" by Susan Toman from Angels on High
56:12 - THANK YOU PATRONS OF THE PODCAST!
Because of Your kind and generous support, this show comes out every week. Your generosity funds the creation, promotion and production of the show. It allows us to attract new listeners and to help our community grow.
As a patron, you get to hear episodes before regular listeners. When we hit a milestone, you get an extra-long episode. You can pledge a dollar or more per episode and cap how much you want to spend each month over on Patreon.
A super special thanks to our newest patrons: Ben, Pamala D, Vaidah Katz, Phyu K, melsing, Esther W, Hobie W, Dan C, Laura
You can become a generous Patron of the Podcast on Patreon at SongHenge.com.
58:03 - "Emanuel" by Jil Chambless, Ed Miller and Scooter Muse from Nollaig Chridheil / Songs of the Christmas Season
1:02:35 - "Dust of Snow" by Matt & Shannon Heaton from Fine Winter's Night
1:06:50 - "Huron Carol" by Heather Dale from This Endris Night
1:10:25 - "Christmas Contra Dance" by Carolina Ceili from Holiday Hooley
Laurie Fisher: Fiddler
Maggie Anderson: Drums
1:12:38 - "A Virgin Queen in Bethlehem" by Catriona O'Leary from The Wexford Carols
1:17:49 - "Brightest and Best" by Jennifer Licko from The Lights of Christmas
1:21:06 - CELTIC CHRISTMAS PLAYLIST ON SPOTIFY
If you enjoy this podcast, you might also enjoy our Joyful Celtic Christmas Music playlist on Spotify. Follow the link in the show notes.
Or if you want a fun mix of popular and classic Christmas songs with some Celtic Christmas favorites by me and other Celtic musicians, I have another great playlist that my family listens to each and every year: Fun Christmas Songs for Kids & Families.
1:22:07 - "Oh Come, All Ye Faithful" by Cherish the Ladies from Christmas in Ireland
Joanie Madden, Mary Coogan, Mirella Murray, Kathleen Boyle, Nollaig Casey
1:25:30 - "The Jump Ball | Whipple Hill | How We Spent the Christmas" by Liz Carroll from Lake Effect
1:28:58 - "Green Grow the Holly/The Holly and the Ivy Girl" by Golden Bough from Christmas in a Celtic Land
Margie Butler: Harp, Vocals
Kathy Sierra: Fiddle, Vocals
1:32:18 - "Angels (featuring Celeste Ray)" by Four Celtic Voices from Four Celtic Seasons
1:36:23 - "Christmas in Camelot" by Jessica Victoria from Songs of the Summer Realm
1:38:25 - "Bottom of the Punchbowl Set" by Banshee in the Kitchen from Invite the Light
1:42:14 - TRAVEL WITH CELTIC INVASION VACATIONS
Every year, I take a small group of Celtic music fans on the relaxing adventure of a lifetime. We don't see everything. Instead, we stay in one area. We get to know the region through its culture, history, and legends. You can join us with an auditory and visual adventure through podcasts and videos. Learn more about the invasion at http://celticinvasion.com/
Oh! And if you want more Christmas podcasts from me, I also host the Pub Songs & Stories. I released my "Christmas Elf" a few days ago. It's a bit more personal podcast. But I have a few Celtic Christmas songs included in the show. Go to PubSong.net.
1:43:56 - "Happy Christmas Christmas Tree" by Liz Madden from Christmas with Liz Madden
1:46:33 - "Christmas Pipes" by Katie McMahon from Celtic Christmas
1:50:13 - "So merry as we have been" by Bonnie Rideout from The Celebration
1:53:50 - "Angels From the Realms of Glory" by Nancy Daily-Green from Celebrating Christmas Yore
1:57:00 - "Bed for the Baby" by Sheri O'Meara from Christmas Light
1:00:24 - "Jigs: Apples in Winter/Frost is All Over/A Merry Christmas" by Eileen Ivers from An Nollaig: An Irish Christmas
2:04:35 - "The Holly Bears a Berry" by The Poor Clares from The Poor Clares: Songs for Midwinter
Betsy McGovern: vocals
Beth Patterson: vocals, bouzouki
2:07:27 - CLOSING
I hope you enjoyed this week's show. If you did, please share the show with ONE friend.
The Irish & Celtic Music Podcast is here to build our diverse Celtic community and help the incredible artists who so generously share their music with you. If you hear music you love, buy the albums, shirts, and songbooks, follow the artists on streaming, see their shows, and drop them an email to let them know you heard them on the Irish and Celtic Music Podcast.
Every week, you can get Celtic music news in your inbox. The Celtic Music Magazine is a quick and easy way to plug yourself into more great Celtic culture. Subscribe and get 34 Celtic MP3s for Free.
VOTE IN THE CELTIC TOP 20
In two weeks, I am pleased to release the Celtic Top 20 for 2020. Every year, I ask you to vote for your favorite songs in each show. It's very easy to do. The polls are closed for the year. And I'm taking off next week for Christmas Eve. On New Years' Eve, I will release the best songs and artists of 2020. I hope you will help me spread the word.
2:09:50 - "Christmas Time Again!" by Sharon Shannon from Christmas Time Again!
The Irish & Celtic Music Podcast was edited by Mitchell Petersen with Graphics by Miranda Nelson Designs. The show was produced by Marc Gunn, The Celtfather. To subscribe, go to Apple Podcasts or to our website where you can become a Patron of the Podcast for as little as $1 per episode. Promote Celtic culture through music at http://celticmusicpodcast.com/.
NEXT TIME
The 2021 season launches on Sunday, November 28. I'll tell you more about Matt & Shannon Heaton. In the meantime, please become a producer of this show over on Patreon.
If you hear music you love in the Celtic Christmas Podcast, then support the artists. Buy something from them. Sign up to their mailing lists. And share the episode with your friends on social or in your community.
The Celtic Christmas Podcast was edited by Mitchell Petersen with Graphics by Miranda Nelson Designs. The show was produced by Marc Gunn, The Celtfather. To subscribe, go to Apple Podcasts or to our website where you can become a Patron of the Podcast for as little as $1 per episode. Promote Celtic culture through Christmas music at CelticChristmasPodcast.com. Nollaig Shona Daoibh!
#celticchristmas #celticchristmasmusic #celticwomen